Our Latest Innovations
May 7, 2018
We've been busy at Hofmann Plastics, and have a whole slew of innovations to show for it.
We're happy to share two brand new products, as well as an improvement to one of our existing products.
Hofmann is expanding its portfolio to include Deli Trays. Available with barrier and non barrier properties, these trays are ideal for prepared food and meat products, and are a prime addition to supermarkets and deli counters. Made of Polypropylene with EVOH,  these trays are available in two series – the 10 series, and 3 series, with multiple sizes within.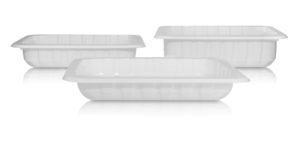 Along with introducing new products, we've added to our existing line of Portion Cups and now  manufacture a 76mm 4oz Barrier Cup ideal for Applesauce and other pureed desserts. This cup has been in the works for some time now, and Hofmann is very excited to  expand our reach in the portion cup industry.
Our latest innovation and improvement comes  to our LR1920 lids; specifically our spouted version. With the new LR1920 spouted lids,  the spouts are moulded in during the time of production, and not inserted manually afterwards. This promises a better spout fitment and placement.
E Hofmann Plastics is constantly innovating, and is happy to share these latest innovations with our new and existing customers! If you'd like to see a sample, or have questions about any of our products, contact our customer service today!
Top